Why Middleware?
A single-step installation
Install with a single script and start monitoring your log and infrastructure data in real-time.
Pay as you go
Pay only for what you use-no hidden charges and no overage penalties
300+ Integrations
We have predefined integration with the leading 300+ tech stack.
Our powerful features provide
betters results
With a complete log management solution, you can identify and troubleshoot issues faster,
improve user experience, and optimize your infrastructure for better performance.
Powerful AI-insights
Get AI-based recommendations for your logs and errors with details of root cause and solution.
It allows creating of custom alerts and notifications based on specific log data, enabling proactive monitoring of critical issues.
Alert thresholds can be set to ensure that only relevant alerts are sent.
Automatically detect outliers, anomalies, and log errors without reading every log file.
Centralized log management
Collect, store and monitor logs from all systems and applications in real time, all in one place.
Easily analyze logs and find patterns using the search option and advanced filters.
Save time troubleshooting with the ability to save and reuse search queries.
The time travel feature allows you to view historical log data.
Get complete visibility without worrying about the cost
Collect, process, inspect, and archive logs for only $1 per 1M events logs.
Pay only for indexing the logs you need.
Audits or investigations by accessing archived logs without paying for active storage.
Store log data on your cloud to reduce cost by 10X.
Easily available 50+ Integrations
We compatible with your plenty of favorite tools
Our customers tell the best stories
We migrated from Datadog to Middleware because we absolutely love their unified view. It's such a simple but incredibly useful tool. This among other features made it a no brainer for us to migrate. We monitor our logs, metrics, and traces at a very affordable cost.
Cliff, President and Founder at Puresend
We use Middleware.io for monitoring our cloud infrastructure. It is extremely easy to integrate and provides a comprehensive view of your cloud environment with a very affordable price.
Artem Harutyunyan, Co-Founder at Bardeen.ai
Don't let log data overwhelm you
Try our log management solution to take proactive measures to prevent issues and optimize performance.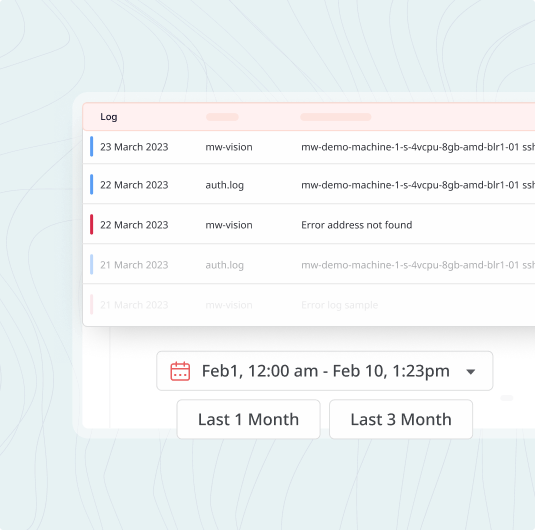 Connect with our expert today