IT companies often struggle to prioritize while setting their fiscal year budget. Distraction is natural when focusing on multiple aspects like products, maintenance, distribution, and so on, and businesses can end up making decisions that aren't profitable in the long run.
Most companies are happy to spend a significant amount of their annual budget on IT infrastructure. This can include servers, cables, equipment, development and maintenance personnel, data center maintenance, and so on. Product development drives this budget and any planned innovative strategies.
The downside to this is that every penny spent on your infrastructure could instead go toward creating a valuable and unique product that drives business growth and differentiates it from the competition. That doesn't mean the infrastructure doesn't deserve attention. However, the priority should be to build a core business product.
Spiceworks states that refreshing IT infrastructure will continue to be the number one pain point for IT organizations into and beyond 2020. First of all, why is this such an urgent issue? And why do IT companies need to focus more on building a core product than infrastructure? Let's find out.
Why focus on a core product
Focusing on a core product has been emphasized for many years. With the advent of cloud services to provide backup, this is a more real problem and imperative for profitable growth.
At a recent Alltech symposium, Dr. Damien McLoughlin proposed four steps to ensure a company's growth.
Have a well-defined, highly differentiated core well received in the marketplace.
Create a sense of value and loyalty in the eyes of your core customers.
Carefully expand your business through neighborhoods that align well with your core customers and channels.
Build repeatable, replicable, and winning formulas from your core.
With these simple steps, you can ensure your core technology thrives and gives you the leverage to survive and thrive over the long term. However, companies often need to be reminded of these facts as they've made many wrong decisions and prioritized infrastructure way above the core.
For example, if you run a coffee shop, you need to offer quality coffee and food to your customers. Sure, the ambiance is a bonus, and you should keep it at reasonable levels in terms of hygiene and aesthetics. But your main attraction has to be your coffee and food. If you spend a lot of money on cafe equipment and neglect the quality and variety of the food, your customers will stop coming in. This is exactly how an IT company works.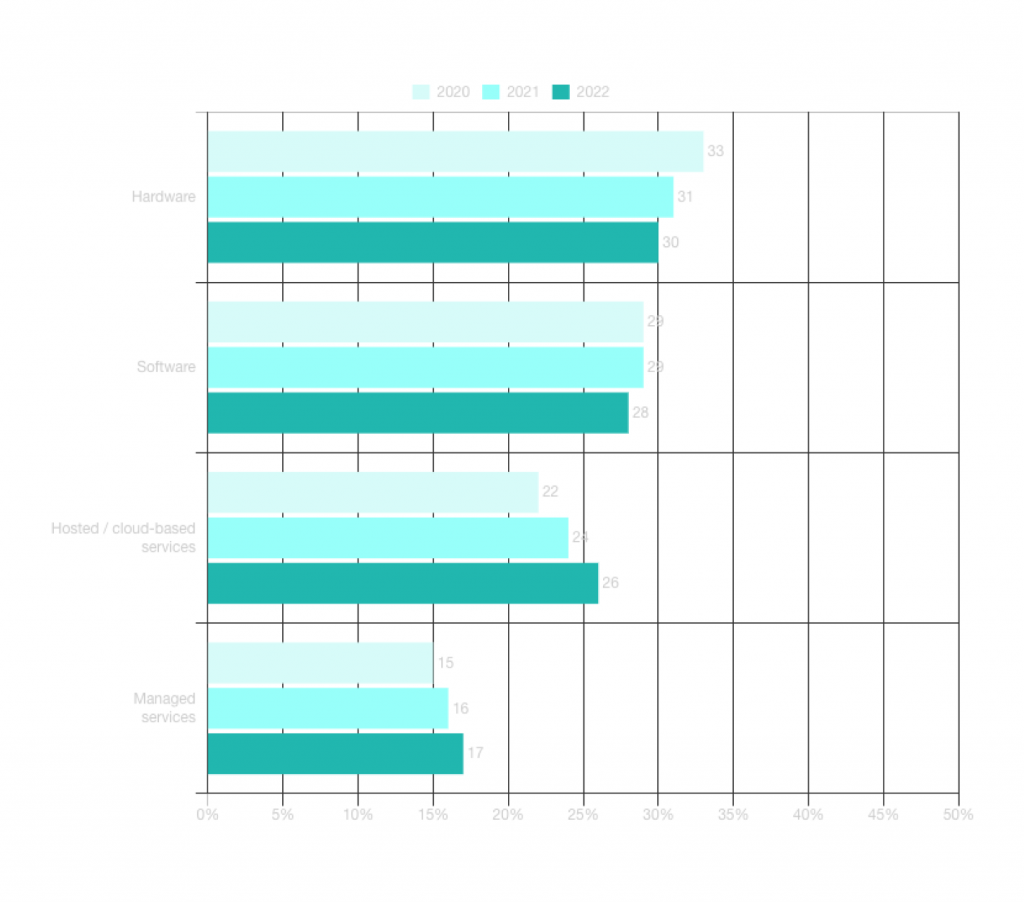 Evolution of IT infrastructure
As cloud computing becomes a major player in the IT world and numerous companies migrate to cloud servers instead of physical servers, infrastructure has become more a commodity than an investment.
Cloud services offer unlimited storage capacity and support. So, it makes more sense for any business to rent these services than spend money on building and running a data center. For this reason, the concept of core vs. infrastructure has become even more relevant in recent years. Instead of spending money on something readily available, companies can focus on building value-based and revenue-generating products.
"You don't want to be caught up in spending your scarce resources on what is essentially something that can be available as a commodity."

Satya Nadella, CEO, Microsoft
Focus on a core product and make it great
A core project is any technology-driven product or initiative that supports business growth and value creation. Such projects generate profits, attract customers, scale the business and differentiate you from your competitors. These are critical to your business, and you need to execute them efficiently to reap long-term benefits.
You should aim to create a product that will drive sales and improve the customer experience. Even if you invest in the latest infrastructure support technology, you still need to ensure that you meet all the criteria of a customer-centric approach.
IT companies' investment decisions reflect their priority: technology, customers, or both.
When acquiring the latest technology for your business, you can go wrong if it doesn't support your product enough to keep customers happy. So, instead of focusing on the trending technology and ways to market it, you need to think about what your end users want and what solutions would most efficiently meet their needs.
Make an effort to develop a great branding strategy so that you may be easily identified; to begin, use cool logo designs, standard fonts, and light colors.
Businesses with an insight into what drives their economic engine have a massive advantage over companies that do not understand their customers. Once you understand which products can lead to significant economic growth, you will recognize mission-critical projects easily.

Good to Great by Jim Collins
Looking at business decisions from the customer's perspective enables business owners and executives to make smarter decisions that can lead to digital transformation, justify the costs involved, and generate a high return on investment (ROI).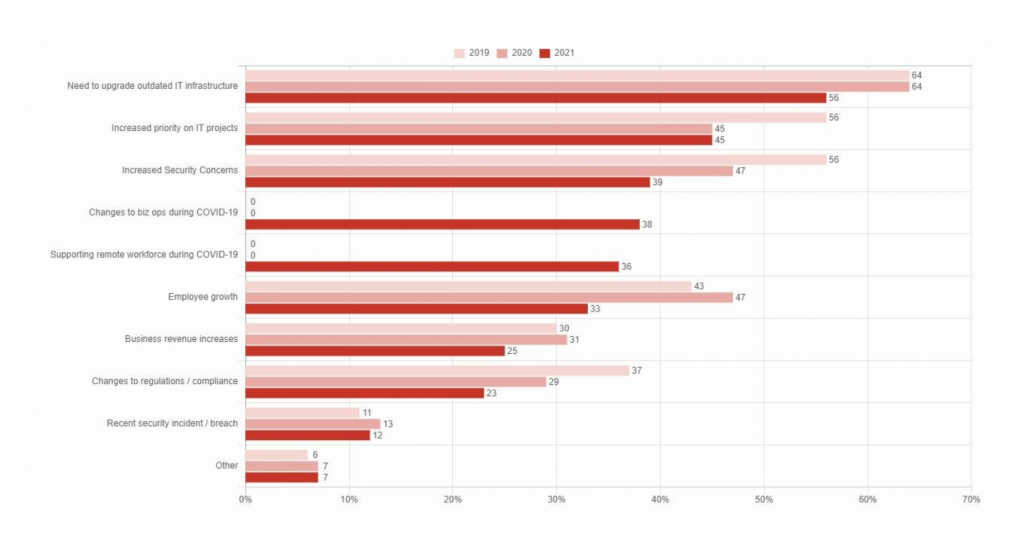 Align IT roadmap with business strategy
Today, the tech world is so competitive that every IT company needs to establish a clear business strategy alongside its innovative and regular work. Software, in particular, is now a strategic tool to ensure better customer experience and business growth.
Not just the tech industry, but every business worldwide, regardless of their industry, somehow relies on software to stay ahead of the competition and adapt to the changing consumer landscape.
One such example is Blockbuster, a hugely successful chain of DVD stores. It gradually went out of business with the entry of online delivery services that mailed DVDs to people's homes. As streaming became a mainstream option in 2007, companies like Netflix used their technology to create a new market that wiped out older DVD companies.
The same can be said for mobile giant Nokia, a classic example of an industry leader failing to recognize the upcoming technological revolutions and staying in the dust. Nokia, the largest cell phone maker in the 1990s and 2000s, failed for several reasons.
Inability to recognize the power of Android
Overconfidence in its products
Refusal to adapt to new technologies
Microsoft's ill-timed acquisition
All this caused Nokia to make many uneconomical and technologically unfeasible decisions. This is another example of how ignoring core development can affect even the best companies.
Reasons and benefits of building a core product
Investing in a core product offers several benefits once you achieve the balance between development and maintenance in your organization. With careful planning and ambitious projects, your IT organization can turn costs into innovation. Gradually, you invest less in infrastructure and more in product development.
All your IT initiatives should aim to reach your customers and open up the sales channel through appropriate technology, rather than just gathering the latest technologies. The perfect business strategy combines innovation, design, marketing, and customer care.
Focusing on a core product has many advantages. You can achieve the following by investing in core technology:
Improve developer productivity and efficiency
Reduce cloud costs in the long run
Get an edge over your competition
Build brand value and recognition
Connect with loyal customers
Start new business relationships and partnerships
Increase revenue, profitability, and revenue
Leverage cloud services
Cloud computing services lets your business to pivot on more essential areas like innovation and developing a core product for faster growth. Sixty-one percent of IT companies expect their revenue to increase in 2022, while only 8% expect it to decrease.
Additionally, 53% of companies plan to increase their tech spending in 2022. Most of their infrastructure budgets will go to the cloud and managed services, shifting focus away from on-premises data centers and hardware. All of this underscores the importance of the cloud in bringing meaning back to the core.
Cloud platforms like software as a service (SaaS), platform as a service (PaaS), and infrastructure as a service (IaaS) provide data analytics, business intelligence, data processing tools, and so on. Organizations can easily deploy these tools and applications to optimize business functions and maintain internal processes and productivity.
They can "rent" cloud services as needed and set up custom controls to ensure security and access. Cloud services also reduce overall business expenses, providing a cost-effective solution for small and large businesses with heavy computing needs.
In this way, you can also save on maintenance personnel, expensive equipment, and additional investments. Cloud-based technologies deliver business solutions faster, help reach end users faster, and win over competitors. By leaving these DevOps activities to the cloud, you can innovate and develop new products.
Choose Middleware for all your cloud needs
Building a core product through intelligent infrastructure pathways accelerates business performance and growth.
Middleware is a potential solution that offers a fully remote developer community, delivering cloud-based infrastructure through automation. It enables companies to save on cloud-related costs and scale applications horizontally and vertically, helping them focus on core products and leave other activities to experts.
Building a highly available infrastructure is the need of the hour. Find out how to develop one!