In this article, we have evaluated 14 best website monitoring tools for their features, pros, and cons. We also included our expert insights on selecting the best website monitoring tool that meets your requirements:
In today's digital landscape, where websites play a crucial role in businesses' success, monitoring their performance is essential. Website monitoring tools help track and analyze various aspects of a website's functionality, ensuring optimal performance, availability, and user experience.
In this article, we will explore the top 14 website performance monitoring tools that can assist you in tracking and optimizing your website's performance.
Before delving into the website monitoring tools, let's first examine the different types of website monitoring methods available.
Types of website monitoring tools
When it comes to monitoring the performance and functionality of your website, different types of website monitoring tools play a crucial role. Two key categories of website monitoring tools are synthetic monitoring and real user monitoring.
Synthetic Monitoring
Synthetic monitoring actively evaluates and assesses the performance and functionality of a website. By simulating user interactions and transactions, it provides valuable insights into how the website behaves under different conditions, ensuring a proactive approach to identifying potential issues before real users experience them.
Performance Testing: Synthetic monitoring tools simulate user interactions, such as measuring page load times, form submissions, and API calls, to analyze the performance of critical website components.
Transaction Monitoring: Synthetic monitoring enables the creation and monitoring of multi-step transactions, such as login processes or e-commerce transactions. This helps identify any bottlenecks or errors that users might encounter while navigating the website.
Availability Monitoring: Synthetic monitoring tools regularly check the website's availability from multiple global locations, ensuring accessibility to users across different geographical regions. This highlights any downtime or performance issues that need attention.
Real User Monitoring
Real User Monitoring (RUM) actively captures and analyzes user data to provide valuable insights into the experiences of real website users. By monitoring user interactions and browsing behavior in real time, RUM enables website owners to understand how users interact with the website and the performance they actually experience.
User Experience Analysis: RUM tools capture data on user interactions, such as measuring page load times, click-through rates, and navigation patterns. This data enables the analysis of the user experience and the identification of any performance bottlenecks or usability issues that may impact user satisfaction.
Device and Browser Performance: RUM tools provide insights into how users experience the website across different devices and browsers. This helps optimize the website for compatibility and performance on various platforms, ensuring a consistent and smooth user experience for all visitors.
Geographic and Demographic Insights: RUM tools track user data based on geographic location and demographic information. This data enables businesses to understand their user base and tailor their website's performance and content to specific audience segments.
Top 14 website monitoring tools for 2023
1. Middleware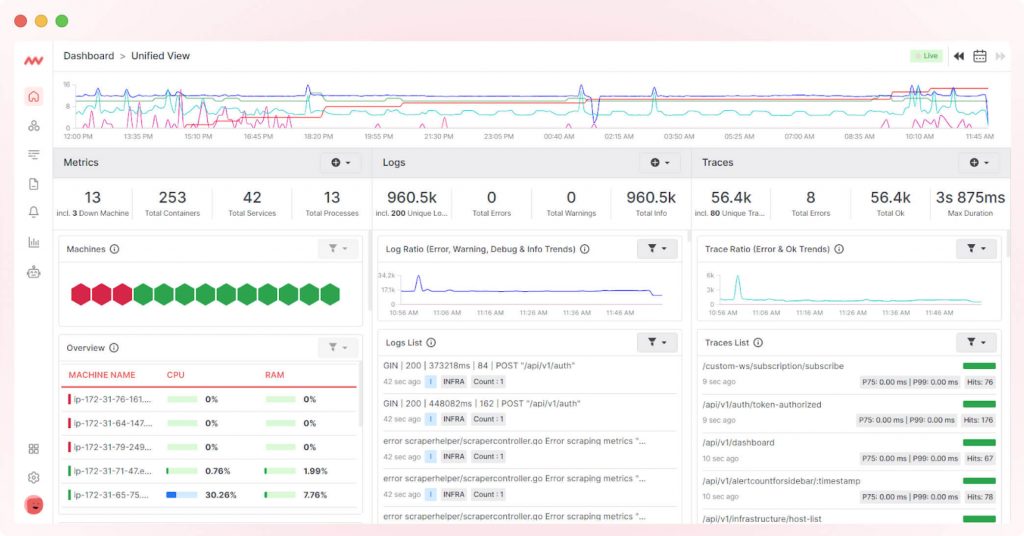 Middleware is a monitoring platform that specializes in complex, multi-tiered applications. It tracks the performance of web pages and APIs at various network levels, and you can easily deploy and scale with any environment like Docker, Kubernetes, and more.
Key Features
Visualize application performance and uptime data alongside key business metrics to find issues faster.
Use a detailed time graph to find which step or endpoint has performance issues.
View a breakdown of network timing data and response time by location for faster root cause analysis.
Pros:
User-friendly interface that makes setting up and managing monitoring tasks easy.
Easy to set up
Cons:
Supports limited tech stack; WordPress, Node Js, React Js, and next.js vercel for now
Pricing:
Free forever version that supports monitoring & APM for up to 2 hosts and 1M log events
Pay-as-you-go plan:

Log monitoring: $1for 1M log events
Infrastructure monitoring: $10 per host/month
APM: $20 per host/month
2. Datadog

Datadog is a comprehensive monitoring and analytics platform that provides businesses with real-time visibility into their infrastructure, applications, and user experience.
With Datadog, businesses can monitor their website's performance, track key metrics, and receive alerts for any issues or anomalies.
Datadog offers features such as server monitoring, application performance monitoring (APM), log management, and synthetic monitoring.
Key Features
Monitor endpoints with API tests, validating system layers from worldwide locations for comprehensive coverage and faster root cause analysis.
Verify critical transactions and workflows with step-by-step screenshots, waterfall visualizations, and meaningful assertions to ensure accurate user experiences.
Incorporate synthetic tests in CI pipelines, automate rollbacks, and eliminate separate testing scenarios for improved collaboration and minimized downtime.
Pros:
Enables monitoring from multiple global locations.
Offers both internal and external monitoring.
Provides near real-time updates.
Cons:
The cost of log storage and retention can be high.
Complex installation
Steep learning curve
Pricing:
Mobile and Browser RUM – $ 1.50
Browser RUM & Session Replay – $ 1.80
3. Sematext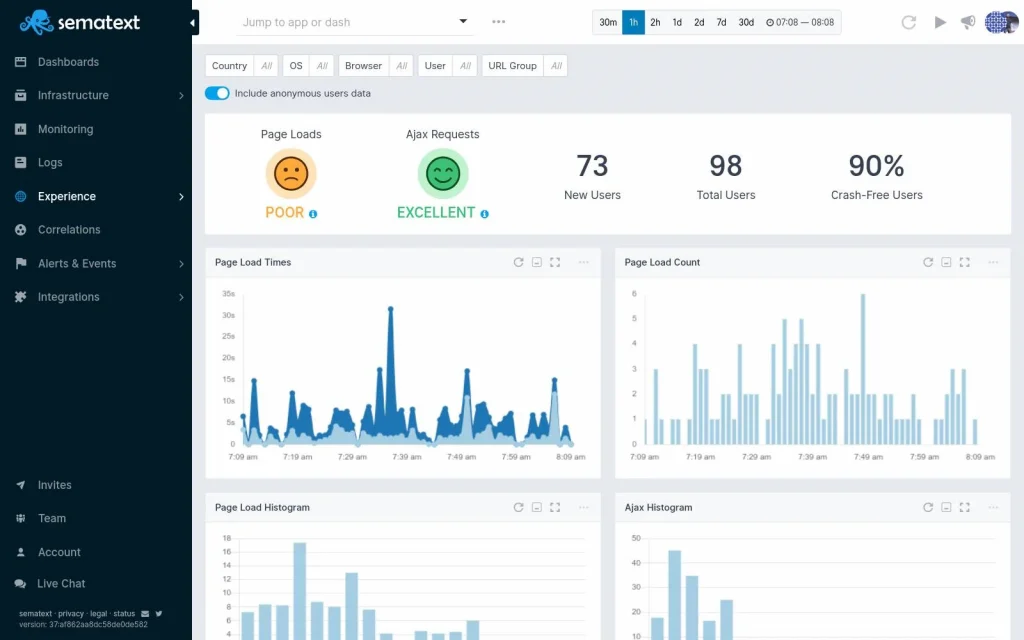 Sematext is a reliable website monitoring tool that provides real-time performance monitoring and alerting. It offers Sematext Cloud, a comprehensive solution for infrastructure and application performance monitoring and log management.
This integrated solution provides businesses full-stack visibility, consolidating logs, metrics, and traces into a unified platform.
Key Features
Measure and track the performance of your web pages, ensuring fast and responsive user experiences.
Track network timings at various layers, including DNS, TCP, SSL, and HTTP.
Track the performance and adherence to Service Level Agreements (SLAs) of third-party services integrated with your website, ensuring they do not negatively impact overall performance.
Pros:
Easy to set up.
Sematext offers fully managed Elasticsearch and Kibana
Offers Server uptime monitoring
Cons:
Complexity for Small Applications
Pricing:
Monitoring Starts at $3.6 per month.
4. Uptime.com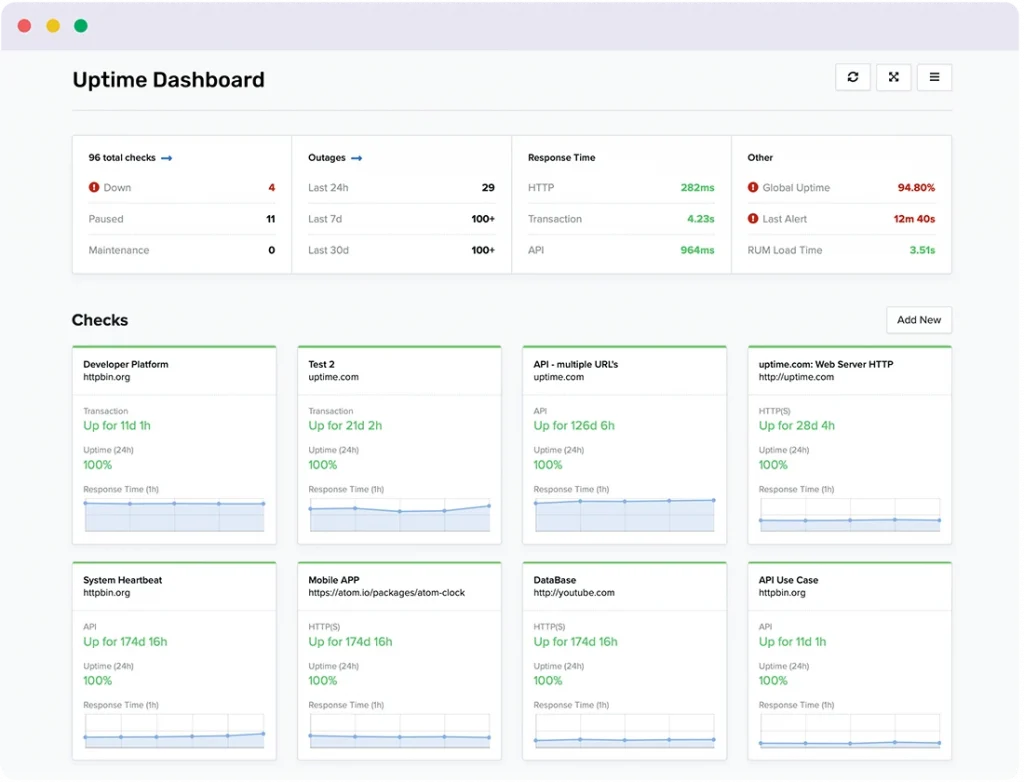 Uptime.com is a reliable website monitoring tool that helps businesses ensure their websites are accessible and functioning properly. With Uptime.com, businesses can proactively monitor their website's uptime and receive alerts in real-time if any issues occur.
This tool offers a range of features to track website performance, including server monitoring, SSL certificate monitoring, and transaction monitoring.
Key Features
Quickly diagnose and resolve website speed issues by comparing page trends, evaluating errors, and identifying root causes with Uptime.com's RUM.
Identify and reference 4xx, 5xx, and JavaScript issues impacting URLs to confirm whether systems function correctly or whether site-wide issues exist.
Monitor both user experience and uptime in a single platform, empowering precise development efforts to enhance frontend performance.
Pros:
Quick and easy setup
User-friendly and intuitive dashboard
Offers a free trial without requiring credit card information
Cons:
Lacks an intermediate tier between the basic and advanced plans
Notification settings may be limited
Pricing:
Essential -From $80/mo.
Premium – $455/mo.
Custom – $899/mo.
5. Dynatrace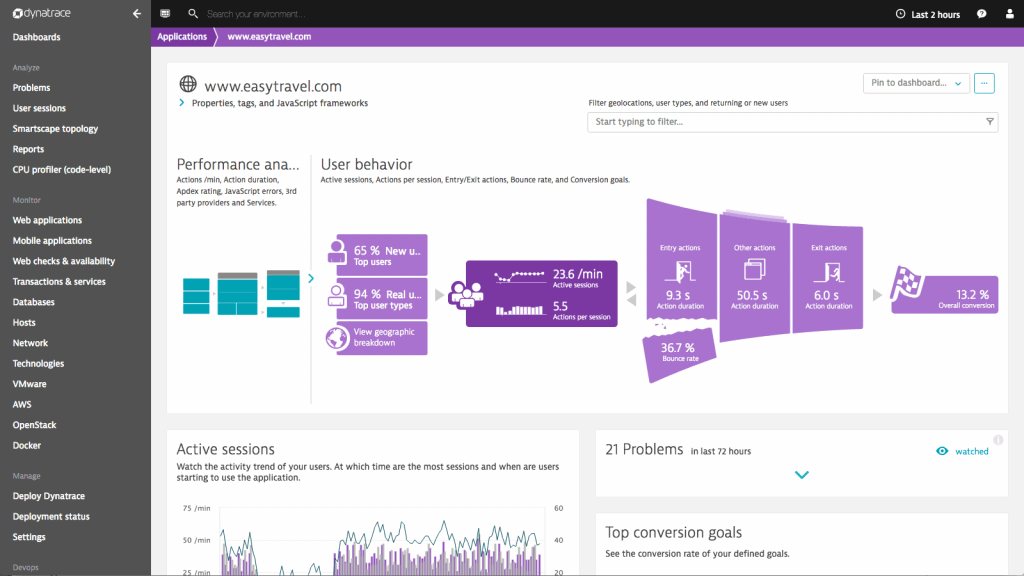 Dynatrace is an advanced monitoring and observability platform that provides comprehensive insights into the performance and health of your applications, infrastructure, and user experience.
With Dynatrace, you can gain real-time visibility into the entire stack, detect anomalies, and troubleshoot issues before they impact your users.
Key Features
Boost team productivity with Dynatrace's AI-assistance, which monitors infrastructure, detects anomalies, and delivers precise answers prioritized by business impact.
Gain deeper insights into system performance by extending infrastructure observability to log data with custom metrics.
Break down application and infrastructure silos with Dynatrace's all-in-one monitoring solution, providing a unified view and AI-driven analysis for precise root cause determination.
Pros:
User-friendly interface.
Compatible with both Windows and Linux operating systems
Operates in the cloud, eliminating the need for installation or on-premise servers
Cons:
May pose challenges for non-technical users.
Primarily designed for enterprise use.
Pricing:
Full-Stack Monitoring – $0.08 per hour for 8 GiB host
Infrastructure Monitoring – $0.04 per hour for any size host
Real User Monitoring – $0.00225 per session
6. New Relic Browser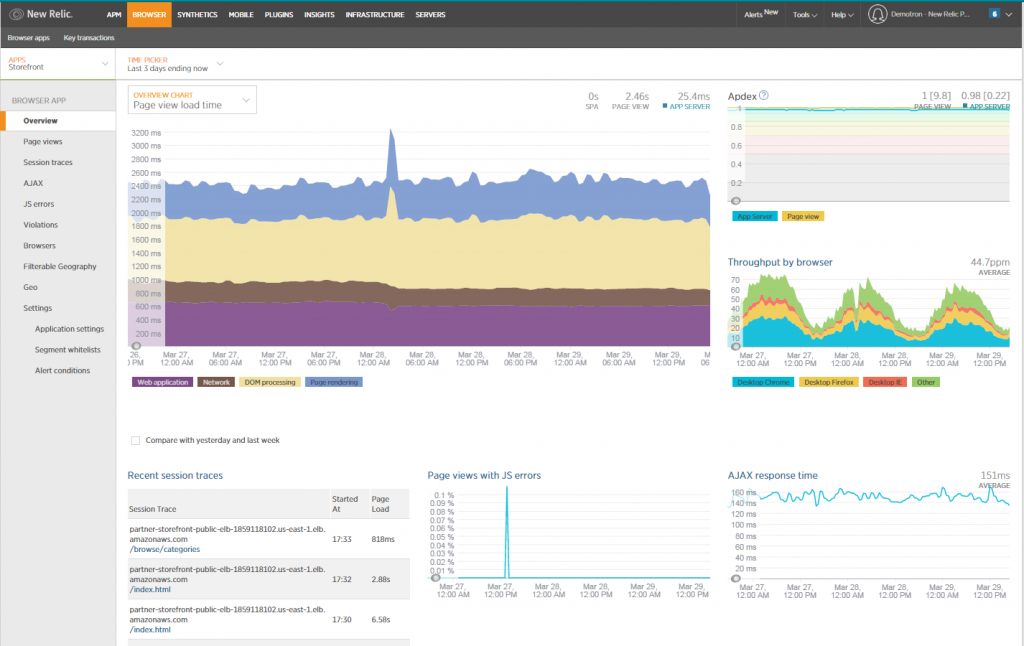 New Relic Browser offers real user monitoring (RUM) to measure website speed, performance, and user experience across browsers, devices, and networks.
It helps optimize performance, troubleshoot issues, and deliver a seamless digital experience.
Key Features
New Relic helps you monitor and track Google's core web vitals, enabling you to gauge and optimize your app's performance for a better user experience.
Gain insights into your app's performance with New Relic's additional web vitals. Instrument different data types to optimize page load experience and address end-user issues.
Compare real user browser interactions with synthetic monitoring trends in specific geographical locations or end-user activities.
Identify issues related to browsers, browser versions, or device types to effectively pinpoint and address performance problems.
Pros:
Enables monitoring from multiple global locations.
User-friendly dashboard
Web vitals monitoring
Cons:
High pricing
Steep learning curve
Pricing:
Free forever plan
Paid plan with full access to the platform for $349/user when paid annually
Emerging website monitoring tools to try
7. Pingdom
Pingdom is a powerful website monitoring tool that allows you to proactively monitor the uptime, performance, and availability of your websites and online services.
With Pingdom, you can receive instant alerts when issues arise, track performance trends, and gain valuable insights to optimize your website's performance.
Key Features
Pingdom combines synthetic and real user monitoring to provide complete visibility into your website's end-user experience, allowing for enhanced troubleshooting and overall performance optimization.
Simulate visitor interactions with your site to identify any issues with critical pages or flows. Monitor uptime, analyze page speed, and test complex transactions to ensure a smooth user experience.
Gain insights into how actual users are interacting with your website in real-time. Understand their experience based on browser, device, and location, and compare usage metrics over time to track performance improvements.
8. Uptrends
Uptrends provides comprehensive monitoring from various locations worldwide. It offers advanced features to track uptime, measure web performance, and detect issues to ensure a seamless user experience.
Key Features
Ensure your website's uptime and speed are monitored worldwide with extensive coverage and error detection capabilities across 233 checkpoints.
Monitor user journeys within your web application, such as shopping carts and logins, by easily recording scripts or seeking assistance from support.
Identify performance bottlenecks on your website by tracking load times and analyzing specific elements that may be causing slowdowns, including Core Web Vitals and W3C metrics.
9. Site24x7
Site24x7, a product by Zoho, is widely recognized for its top-notch end-user experience monitoring solutions. With its global reach and cloud-native scalability, Site24x7 is an ideal choice for both web hosting providers and businesses seeking to ensure the continuous availability of their websites.
It offers comprehensive performance monitoring from 90 global locations, allowing users to monitor various aspects such as internet services, internal network performance, web page components, and more.
Key Features
Using automatic baselining, detect unauthorized changes to your website's integrity, including iframe/script injections and content modifications.
Stay updated on SSL/TLS certificate expiration and monitor for revocations, untrusted certificate authorities (CAs), and tampering of SHA-1 fingerprints.
Run queries against popular blocklists to identify domains and IP addresses marked as spam, ensuring your online reputation remains intact.
10. Uptime Robot (free website monitoring tool)
Uptime Robot is a reputable website monitoring service provider based in Malta since 2010. A global presence and testing from multiple locations ensure accurate monitoring results.
Its advanced features include multi-location checks, recurring notifications, and the ability to analyze incidents with root causes, providing comprehensive insights for effective website monitoring.
Key Features
Pause monitoring during maintenance windows to avoid false alerts.
Analyze incidents with root causes to minimize the risk of recurrence.
Visualize response times in a chart to identify performance issues.
Customize HTTP requests with advanced headers for more precise monitoring.
11. ManageEngine Applications Manager
ManageEngine offers comprehensive monitoring solutions for websites and networks. With ManageEngine Applications Manager, you can track and analyze website performance using various monitors, while ManageEngine OpManager provides deep visibility into network performance, allowing you to troubleshoot and resolve issues efficiently.
Key Features
Monitor the performance of individual webpages or sequences of webpages, ensuring optimal functionality and user experience.
Test critical page workflows and applications before launch, ensuring they meet performance and functionality requirements.
Detect unauthorized content changes and ensure the integrity of your website by tracking any unauthorized modifications.
Seamlessly integrate with various tools and platforms, and receive instant alerts via email, SMS, or push notifications. Benefit from features like application discovery, analytics, CI/CD integration, SSL monitoring, and more.
12. Linko
Linko is a dependable and advanced website monitoring tool that ensures the well-being and performance of your website.
It actively monitors your website's SSL certificate health, detects broken links, regularly checks its availability across global regions, and provides timely notifications two weeks prior to your domain expiration.
Additionally, it offers customizable reporting options to keep you informed about any issues affecting your website.
Key Features
Linko ensures regular monitoring of broken links, SSL certificate health, and domain status, providing you with a complete overview of your website's performance and security.
With servers located in various regions worldwide, Linko offers extensive coverage and the ability to monitor your website's availability from multiple locations, giving you valuable insights into its global performance.
Linko offers efficient crawlers, multi-step API integration, instant email alerts, and seamless integration with NODATA. It also provides a range of monitoring features, including SSL monitoring, website uptime monitoring, log analysis, and domain expiry check, enabling you to proactively manage and optimize your website.
13. Better Stack
Better Stack is a monitoring platform that brings together ping and uptime monitoring, incident management, and status pages into a unified solution. The ability to log and troubleshoot everything offers comprehensive visibility into your entire stack.
By aggregating logs into structured data and enabling SQL-based queries, Better Stack empowers you to easily analyze and visualize your system for efficient troubleshooting and improved performance.
Key Features
Ensure accurate incident alerts by verifying each HTTP and ping-based incident from at least 3 locations, eliminating false incidents.
Monitor a wide range of elements, including web pages, APIs, pings, POP3, IMAP, SMTP, DNS, and generic network parameters to cover all aspects of your system.
Capture error messages from your APIs and provide screenshots of website downtime, allowing you to quickly identify and understand the cause of any issues.
14. Team Viewer Web Monitoring
TeamViewer Web Monitoring provides comprehensive monitoring and analytics for your website, ensuring optimal performance and user satisfaction.
Optimize your website's performance and user experience by monitoring, analyzing, and enhancing uptime, full page load speeds, and transactions.
Key Features
Ensure global accessibility by monitoring the uptime of your websites from over 30 worldwide locations, ensuring customers from different regions can easily reach and engage with your online presence.
Attract and retain more customers by maintaining peak website performance, preventing slow page loads and unknown errors that could hinder user engagement.
Protect your revenue flow by promptly identifying and resolving any web shop malfunctions, minimizing the risk of lost sales and missed business opportunities.
How to choose the right website monitoring tool?
Choosing the right website monitoring tool is crucial for businesses to ensure their online presence is consistently accessible, secure, and optimized. Before choosing the right monitoring tool, let's consider a few important things.
1. URL Monitoring Frequency
URL monitoring frequency refers to how often a website monitoring tool checks the availability and performance of a specific URL or web page. The frequency can vary depending on the monitoring tool and the specific needs of the website owner.
Choosing a monitoring frequency that strikes a balance between detecting issues in a timely manner and avoiding unnecessary strain on the website's resources is important.
Common monitoring frequencies range from every minute to every hour, but it ultimately depends on the requirements of the website and the desired level of monitoring granularity.
2. Integrated server and log monitoring
Integrated server and log monitoring refer to the capability of a monitoring tool to simultaneously monitor both the performance and health of servers as well as log files.
This integration allows for a comprehensive approach to monitoring, where the tool can track server metrics such as CPU usage, memory usage, disk space, and network traffic while also analyzing log files for errors, warnings, and other relevant information.
Combining server and log monitoring into a single solution makes it easier to correlate server performance with log events, identify potential issues, and troubleshoot problems more effectively.
This integrated approach provides a holistic view of the infrastructure, enabling efficient monitoring and proactive management of servers and applications.
3. Synthetic and Real User Monitoring
Synthetic Monitoring involves simulating user interactions with a website or application to monitor and test system performance proactively.
By mimicking user behavior from different locations and devices, it provides insights into availability, response times, and transactional functionality. This helps organizations identify issues before they impact real users and optimize their systems for a seamless user experience.
Real User Monitoring captures data from actual user interactions with a website or application, providing valuable insights into the user experience.
Organizations can gain a deeper understanding of how users interact with their systems by analyzing metrics like page load times, click paths and device types.
This data-driven approach helps identify areas for improvement, prioritize enhancements, and optimize performance to enhance user satisfaction and drive better overall user experience.
Combining synthetic and real user monitoring offers a comprehensive view of system performance and empowers organizations to deliver exceptional digital experiences.
4. Testing locations
Testing locations refer to the geographic locations from where a website or application monitoring is performed. When choosing a monitoring tool, it is important to consider the availability of testing locations that align with your target audience or user base.
By monitoring from diverse locations, you can ensure that your website or application performs well across different regions and provides a consistent user experience worldwide.
Having a wide range of testing locations enables you to identify potential performance or connectivity issues specific to certain geographic areas.
It helps you detect any regional variations in response times, latency, or availability, allowing you to optimize your systems and address any issues that may impact the user experience in specific locations.
5. Support for multiple browsers
It is essential to consider the compatibility of the tool to support multiple browsers when choosing a website monitoring tool. It ensures that your website or application is tested and monitored across various web browsers that your target audience may use.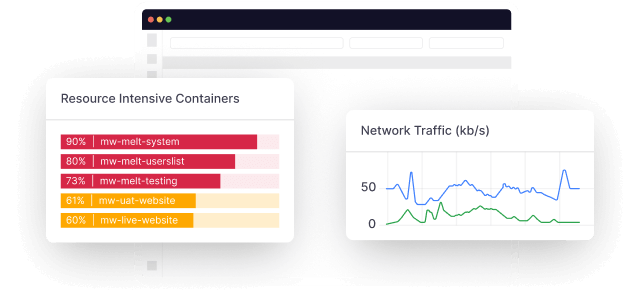 Middleware supports all major browsers for synthetic monitoring.
You can accurately assess your website or application's user experience and performance across different browser platforms by choosing a tool that supports multiple browsers.
Each web browser may have its own rendering engine, JavaScript interpretation, and compatibility quirks.
Therefore, testing your website or application on popular browsers such as Google Chrome, Mozilla Firefox, Microsoft Edge, Safari, and others is crucial.
This ensures your website functions correctly, displays properly, and delivers optimal performance across different browser environments.
6. Alerting capabilities
The alerting capabilities of a website monitoring tool play a crucial role in promptly notifying you about any issues or incidents with your website or application. With robust alerting capabilities, you can proactively respond to potential problems and minimize downtime.
A reliable monitoring tool should offer various alerting methods such as email notifications, SMS alerts, push notifications, and integrations with popular communication platforms like Slack or Microsoft Teams.
These alerts ensure you receive real-time notifications whenever there is a performance degradation, availability issue, or any predefined threshold breach.
7. Price
Price is an important factor to consider when choosing a website monitoring tool. It is essential to find a tool that offers a balance between cost-effectiveness and the features you require for your monitoring needs.
When evaluating the price of a monitoring tool, consider factors such as the pricing structure (monthly subscription, annual plans, etc.), the number of monitors or websites included in the pricing tiers, and any additional costs for add-on features or integrations.
It's important to assess your budget and determine the level of monitoring coverage you need for your websites or applications. Some tools offer free or low-cost plans with limited features, which can be suitable for smaller websites or personal projects.
Investing in a more comprehensive and scalable monitoring solution may be necessary for larger organizations or mission-critical applications.
In Conclusion
The world of website monitoring tools is teeming with possibilities, offering a wide array of options to suit the needs of businesses and individuals alike.
From comprehensive analytics to real-time alerts, these 14 best website monitoring tools exemplify excellence in their ability to ensure optimal website performance and user experience.
With its impressive range of features and user-friendly interface, Middleware has rightfully earned its place among the best website monitoring tools available today.
Sign up for Middleware to see it in action.