Efficiency, scalability, and accessibility are key drivers for adopting cloud infrastructure. Find out the other reasons why startup companies are moving toward cloud adoption.
Cloud infrastructure services, often referred to as cloud computing, involve provisioning computing services over the internet. These include servers, software, databases, and storage as primary components and offer networking, data processing, data analysis, and so on.
Cloud computing has seen a rapid rise in popularity in recent years, including increased flexibility in resource management, cost-efficiency, and easier scaling. Startups or enterprises can now easily capitalize on all these to make their business a success. Read on to learn more about how your startup can benefit from opting for cloud infrastructure.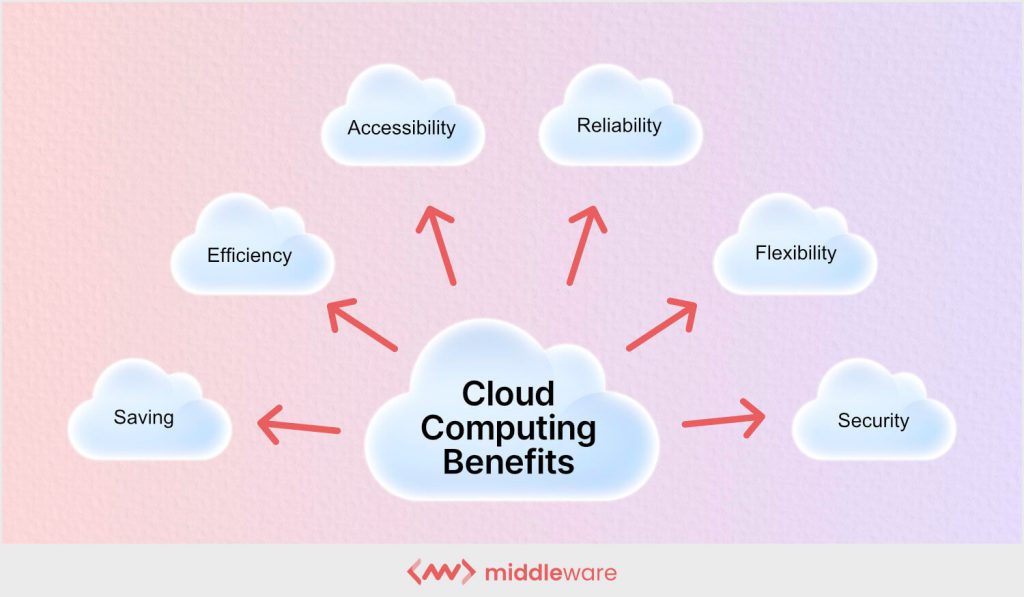 The 6 advantages of cloud infrastructure for your startup
Cloud computing has transformed numerous businesses across Industries. An integral part of cloud computing success is robust cloud infrastructure. Here are the six advantages a strong cloud infrastructure adds up for your business:     
1. Convenient and innovative software solutions
One of the biggest advantages of choosing cloud computing is the access that a startup can get to the industry's leading technologies and software solutions. Cloud computing means that a startup can choose from various features that cloud providers offer to its requirements. Once a cloud infrastructure is set up, you can use automatic software updates with improved security and new features.
80% of startups and SMBs saw significant improvements within the first few months of adopting the cloud-based system. While cloud computing is generally a rapidly evolving space where innovations and new features are regularly introduced, opting for a multi-cloud system could further help a startup access software solutions best suited to its needs.
2. Ideal for easier collaboration and remote work
Regardless of the size of your startup, it's highly likely that you have two or more employees working together on a project. When your business grows, you're potentially looking at projects that require multiple employees to collaborate and cooperate, sometimes in different geographic regions.
With the help of cloud computing, you can facilitate seamless and hassle-free collaboration between all your employees through a simple cloud-based platform. This means more work gets done faster and working from remote locations becomes easier by overcoming geographic barriers. 
The COVID-19 pandemic has primarily taught us that the physical workspaces can become inaccessible at any point and businesses should always be prepared for such contingencies. With cloud computing, a startup can easily deal with such unforeseen circumstances as and when needed. 
3. Ensures flexibility and easier scalability
Choosing cloud computing makes a big difference in terms of how a business can optimize and deploy its resources. 
First, outsourcing all your IT-related tasks to a third-party expert frees up significant resources that can be used to meet the startup's business goals. Second, and more importantly, an inhouse IT set-up simply doesn't offer the flexibility in the features and software capabilities a business can choose from. 
Every startup must seek growth, and choosing cloud computing makes it easy to scale their IT capabilities and meet growing business needs. 
4. Allows for better automation
With an inhouse IT infrastructure, you need a dedicated IT team to supervise, manage, and handle all IT-related operations. This team is also in charge of integrating changes or upgrades to the existing infrastructure. This is time-consuming and cost-intensive, and cloud computing provides a better alternative.
Cloud providers make regular security and feature updates to the servers in line with the highest industry standards. All of these updates become automatically available for your startup. Cloud providers also fully manage and maintain servers to ensure optimal performance. This simplifies software integration since applications are automatically optimized on the cloud. The subsequent improved level of automation frees up a lot of resources that your startup can leverage for financial growth and expansion. 
5. Supports massive data and analytics
Hardware components that are part of inhouse setups have limitations in data storage, processing, and performance. With cloud computing, servers can handle large volumes of data, especially when startups need greater bandwidth and faster network capabilities due to surges in usage and traffic. 
Moving, migrating, and handling large data sets can be simplified with a multi-cloud approach that can help overcome modern data challenges such as data gravity. 
By efficiently handling data and information,you gain access to smarter and more powerful cloud analytics regardless of the amount. You can use them to improve your services and better understand customer requirements. 
6. Efficient disaster recovery and backup
Every startup needs to be prepared for the worst-case scenarios as any sort of downtime in today's highly competitive market can be disastrous for business. 
If you want to ensure disaster recovery to bring your IT services back up, you'd need huge investments in expertise and equipment. 
Cloud providers, on the other hand, offer comprehensive and quick disaster recovery solutions to customers. This makes cloud computing the optimal choice for startups that simply cannot afford extended downtime. 
When it comes to the disaster recovery success rate for cloud infrastructure, 20% of cloud computing customers claimed that disaster recovery was completed in four hours or less. Only 9% of non-cloud users saw similar disaster recovery success rates. This means that cloud computing is twice as efficient in reducing downtime. Fast backups and the prompt restoration of data and IT services are factors that every startup should integrate into its IT infrastructure, and cloud computing makes this process easier. 
Be on top of the cloud
Cloud computing gives startups access to the newest and most modern features in the industry without spending a lot of financial resources on an inhouse IT infrastructure. It's a cost-effective and smarter option for emerging businesses looking to establish feature-rich IT infrastructure without investing too heavily. 
Another factor drawing attention to cloud computing is that it's an environmentally friendly and sustainable alternative. Virtual services instead of services operated by brick and mortar server space (stationary server) drastically reduce the environmental impact by reducing paper consumption and improving energy efficiency. 
If you own a startup, and are looking to enter the IT space, cloud computing is your best shot at sustainable success and growth.
Learn more about how Middleware can help you manage your cloud Infrastructure more effectively using Autoscaling technology.